Find us on facebook.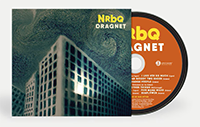 11/12/21 Dragnet Released!
Dragnet is NRBQ's first new studio album since 2014, released by Omnivore Recordings on November 12, 2021! It includes ten originals, with contributions by every band member, and Terry's rockin' arrangement of the classic TV theme. Available on CD, on vinyl, and digitally. Cover artwork by Heidi Kennedy.

Get it here.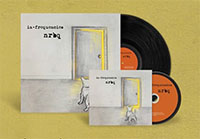 10/2/20 In*Frequencies Released!
The first-ever NRBQ rarities collection is released by Omnivore Recordings on October 2, 2020. The career-spanning sixteen tracks, twelve never-before released, include live and radio performances, soundchecks, and rare singles. There are great liner notes by MC Kostek and lots of photos. Available on CD and vinyl!

Get it here.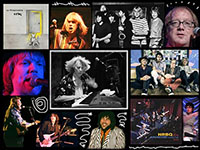 9/15/20 Terry Interviewed on "Tuesday Lunch with Abe Perlstein"
Tune In – Terry is interviewed September 15th on "Tuesday Lunch with Abe Perlstein." It streams live at 4:30 pm EST (1:30 pm PST, 2:30 pm GST, 3:30 PM CST) at CentralCoastRadio.org. For more information: www.facebook.com/TuesdayLunchWithAbe/.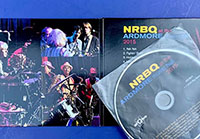 8/4/20 NRBQ - Ardmore Music Hall 2015, Live, Limited Edition CD
Just a few copies left! Here's an archival release to keep you happy until we can all see NRBQ live and in-person again. This numbered, limited edition CD captures a magical night in Ardmore, PA, with an all-star lineup, including special guests Pete Donnelly, and the Sun Ra Arkestra's Marshall Allen and Danny Thompson.

We miss Hal, Bobby Lloyd, Danny, John John, and Stacey - so much. ♥

Get it here, while they last.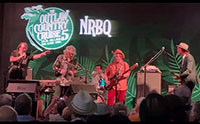 2/4/20 Outlaw Country Cruise 5
The year 2020 started off with a bang. The Outlaw Country Cruise, from January 29 through February 3, sure was fun! Steve Earle joined the band onstage for "Shake, Rattle, & Roll."



10/5/19 Two West Coast Dates with Young Fresh Fellows
Lucky fans in Portland and Seattle will have the chance to see NRBQ and Young Fresh Fellows in early October.

See Appearances for details.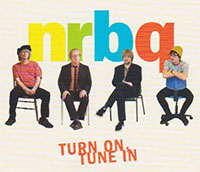 9/6/19 Turn On, Tune In!
Turn On, Tune In is released on September 6 by Omnivore Recordings! Six songs recorded at the band's last appearance on SiriusXM's The Loft (thank you Mike Marrone) and fifteen more recorded at Monty Hall, WFMU's performance space. Packed with music that spans years, loaded with surprises, smiles, photos, and great liner notes from Bob Brainen, who says, "WFMU is, and always will be, a free-form station and NRBQ is, and always will be, a free-form band," Turn On, Tune In (CD and vinyl LP) also includes a DVD of the Monty Hall show! "It was like we had a party in WFMU's basement," says Terry. Yes it was!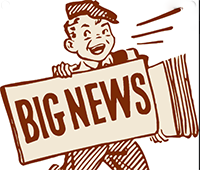 8/18/19 New Washington Post Article
John Lingan has written a wonderful story about NRBQ, published in the Washington Post on Sunday, August 18. Quoting Bonnie Raitt, "They play the roots of rock-and-roll the way it should be played. They are without parallel." Don't miss it.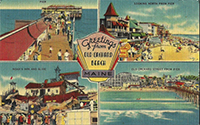 8/16/19 So Long To Summer
"See them and get a rage to live!" — M C Kostek

NRBQ began the summer in the Midwest and will end it on Labor Day weekend with two shows in New England: August 30 in Portsmouth, NH and August 31 in Old Orchard Beach, ME, where they headline the 2009 Blues Festival. Dates in Boston, Brooklyn and more are upcoming in the fall.

See Appearances for details.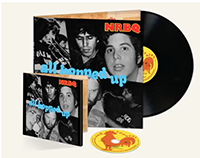 10/26/18 Still Hopped Up
All Hopped Up, NRBQ's classic album from 1977, has been re-released by Omnivore Recordings. This landmark record introduced the quartet of Terry Adams, Joey Spampinato, Al Anderson, and Tom Ardolino to an unsuspecting world, and featured the Whole Wheat Horns (Donn Adams and Keith Spring) for the first time. It was the first on the band's own label, Red Rooster, and the first to be produced by Terry and Joey.

With such beloved songs as "Ridin' In My Car," "Things To You," "Still in School," and "Queen Talk," not to mention unforgettable and original renditions of "I Got a Rocket in My Pocket," "Honey Hush," and "Bonanza," this is one for the ages. As if that was not enough, included on the re-release are four bonus tracks and great liner notes from John DeAngelis, who points out, "It has outlived concurrent 1970s musicial trends like punk rock, new wave, and disco, and it sounds fresher, livelier, and better than ever!"

Get it here.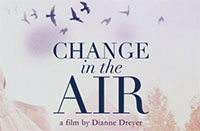 8/8/18 Terry Composes Music for Upcoming Film
The music for the upcoming film Change in the Air was composed by Terry Adams and Bill Frisell. You'll also hear a song performed by NRBQ during the credits. The film, by Dianne Dreyer, stars Mary Beth Hurt, Aiden Quinn, Peter Gerety, M. Emmet Walsh, Rachel Brosnahan, Macy Gray, and Olympia Dukakis and opens in the US in mid-October.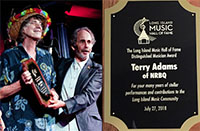 7/27/18 Terry Receives Distinguished Musician Award
NRBQ blew the roof off My Father's Place at the Roslyn Hotel in front of a sold-out crowd on Friday, July 27. After the set, and before the band returned to the stage for an encore, Norm Prusslin (a member of Stony Brook University staff/faculty for 33 years, former general manager of WUSB, and all-around wonderful person) came onstage and presented Terry with a "Distinguished Musician Award" from the Long Island Music Hall of Fame. What a great night!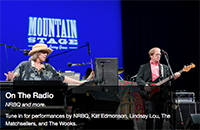 5/25/18 NRBQ on Mountain Stage Airs
NRBQ's May 13 Mountain Stage appearance aired on 240+ NPR stations beginning on May 25.
Check here for airtimes and stations.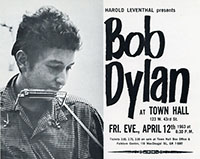 5/24/18 Salute Him When His Birthday Comes
Terry was among the many artists who performed songs from Bob Dylan's 1963 concert at NYC's Town Hall - Tomorrow Is a Long Time. Thursday, May 24, was Bob's 77th birthday.
More information here.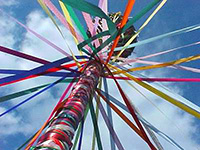 5/5/18 May Days
Hooray, it's finally spring, and NRBQ hit the road for some special dates early in the month, including a return to Mountain Stage on May 13.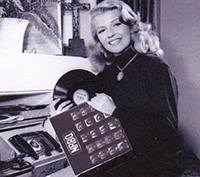 5/1/18 C'Mon Everybody!
Everybody loves the reissue of NRBQ, the 1969 debut album from NRBQ. You can read more here. Out now on Omnivore Recordings.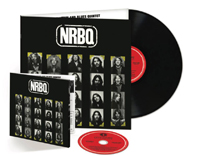 3/16/18 This Is How It All Began
NRBQ, the debut album from NRBQ, was originally released in 1969. The classic and influential album - re-mixed, mastered, and with new liner notes - was re-issued for the first time on March 16, by Omnivore Recordings.
Listen.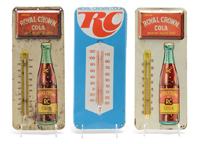 2/14/18 Cure for the Winter Blues
We stayed warm this winter with NRBQ shows in NYC, Washington DC, Connecticut, New Jersey, Philadelphia, and Florida.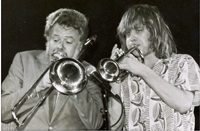 11/16/17 Happy Birthday, Roswell
Terry was among the wonderful musicians celebrating the 82nd birthday of the legendary Roswell Rudd, at Dizzy's Club in NYC on November 16, 2017.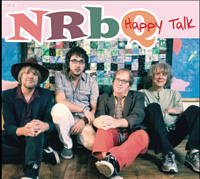 9/2/17 Happy Talk!
Happy Talk, a new 5-song EP from NRBQ, was released by Omnivore Recordings on October 20, 2017. "Charming through and through, this is a mini-masterpiece," says Pure Pop Radio.
Check it out!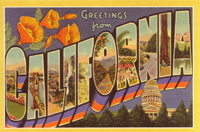 6/29/17 NRBQ Finally Headed West!
Oh boy, California fans were in for a treat when NRBQ played nine shows in California in June & July! It was great to see so many old friends.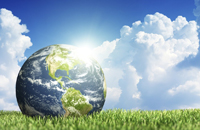 4/22/17 It's Only Natural: Celebrate Earth Day with High Noon Vinyl (Update)!
A 2-LP vinyl companion/extension to the critically-acclaimed High Noon 50-year Retrospective was released at record stores on Saturday, April 22. The set includes 26 songs, with 10 tracks not included in the box set, many previously unavailable on vinyl, 1 track previously unreleased anywhere, and a beautiful gatefold with never-before-seen photos. Original recordings have been revived and remastered especially for vinyl. This is an extremely limited edition, only 2,000 copies worldwide!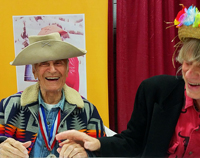 4/6/17 Larry Storch!
On April 6, Terry spent some time with the one and only Larry Storch. They shared some laughs and traded stories about mutual friend Professor Irwin Corey.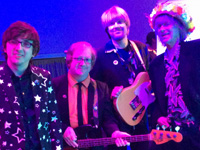 4/1/17 Everybody Say Yeah!
"...like a night on the town with the 'Q: great songs, hot chops and hair-trigger wit, fired at will." -Rolling Stone
YAY, see Appearances for tour details.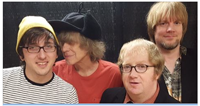 12/1/16 It Sure Was a Happy December 2016!
"NRBQ brings joy at a time when we could really use some." -Elmore Magazine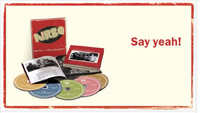 11/11/16 High Noon
Fifty years of celebrating is worth celebrating!
"... any band that can fill five discs with life affirming, uniquely American music, mixing diverse styles with offhand aplomb and a wry smile, can lay claim to being one of this country's finest outfits. Just push play on any of these discs to see why." -American Songwriter
See NRBQ for more details.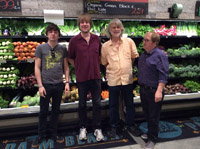 7/1/16 It's Good For You
What I did this summer: Listened to more NRBQ. Went to more NRBQ shows. Ate more vegetables. The July shows were GREAT!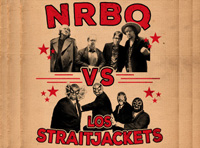 4/28/16 NRBQ vs. Los Straitjackets
There were ten rounds of NRBQ vs. Los Straitjackets in April and May, followed by a rematch in September!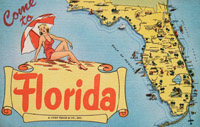 3/24/16 Florida Dates
NRBQ returned to Florida for three shows, starting on March 24 in Boca Raton, and continuing on to St. Augustine (with The Baseball Project), and Tampa.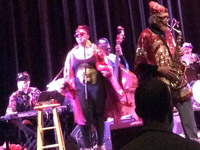 2/28/16 Terry and the Arkestra
Terry toured with the Sun Ra Arkestra for three dates earlier this month, in Athens, GA, Birmingham, AL, and Jacksonville, FL! Pictured (l-r): Terry, Tara Middleton, Tyler Mitchell, bandleader Marshall Allen, and Wayne Anthony Smith Jr.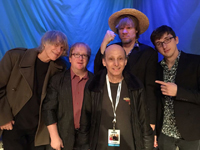 1/11/16 NEW Loft Sessions Airs
NRBQ's third visit to the Loft, which was recorded on November 30, will start to air on Sirius XM Satellite Radio the week of January 11, 2016. Check out The Loft for details. Legendary WHFS DJ Weasel visited the band at the session!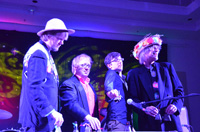 1/1/16 Ring Out the Old, Ring In the New
NRBQ rings in the new year in Saratoga Springs, NY. Happy 2016 to all!
(Photo by Michael Hochanadel)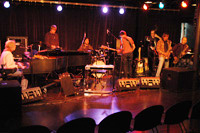 11/27/15 Talk Thelonious Thanksgiving!
The official Talk Thelonious CD release party was the day after Thanksgiving, at Rams Head On Stage in Annapolis, MD. NRBQ appeared in Raleigh, NC, Richmond, VA, and Washington DC too!
(Photo by Michael Hochanadel)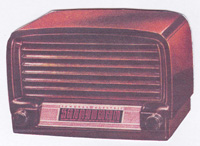 11/7/15 On the Air
Terry returned to Bob Brainen's show on WFMU on Saturday, November 21st to Talk Thelonious and more. You can hear the show at WFMU. Then on Monday, November 30th, NRBQ made their third Loft Sessions appearance on Sirius XM Satellite Radio, which airs in January 2016.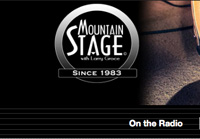 10/25/15 Mountain Stage
On October 25th, NRBQ made a return appearance to Mountain Stage in West Virginia. If you missed the live streaming that night, you can hear the radio version of the show (episode #856), which started to air December 4th. For a listing of affiliates,visit Mountain Stage!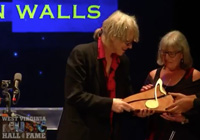 10/24/15 West Virginia Music Hall of Fame
Terry inducted the late Vann "Piano Man" Walls into the West Virginia Music Hall of Fame at the awards ceremony held on October 24th. Walls' niece Francine Breault accepted the posthumous award. After the presentation, which was held at the Culture Center Theater in Charleston, WV, NRBQ performed. You can watch the complete night's events here! The ceremony begins about 15 minutes into this recording . . .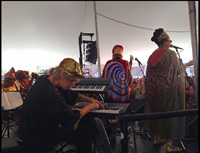 10/12/15 Terry with the Sun Ra Arkestra
Terry played with the Sun Ra Arkestra for two days, October 10 & 11, at the Richmond Folk Festival in Richmond, VA.
(Photo by Vicki Lucia)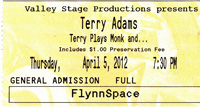 10/4/15 Talk Thelonious
It was a magical night of music on April 5, 2012, and now everyone can experience it for themselves with the long-awaited release of Talk Thelonious. It is officially released on November 27th, but you can buy it now! Read more here.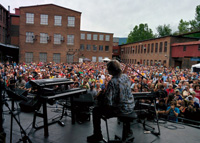 6/27/15 Solid Sound Festival
NRBQ and the Whole Wheat Horns made their first appearance at Wilco's Solid Sound Festival ... and it was Great!
(Photo by John Krucke)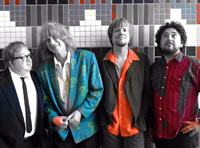 6/6/15 Here Comes Terry, Here Comes Scott, Here Comes Casey, Here Comes...Conrad!
June came and went before we knew it! There was fun for all with NRBQ and the Whole Wheat Horns at The Met, the Solid Sound Festival, and the Rowayton Summer Music Festival.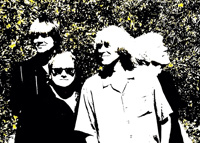 4/30/15 Hooray, NRBQ Tour Dates!
Spring 2015 dates kicked off at Johnny D's in Somerville, MA on April 30. Three great shows in Connecticut followed, then it was off to Brooklyn, and Bay Shore, NY. It all ended with a wonderful performance at the Belleville Roots Music Series in Newburyport, MA.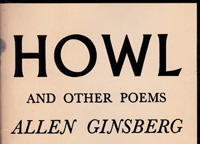 4/7/15 Allen Ginsberg's 'Howl' is 60
Terry joined a star-studded cast at Hal Willner Presents: A Celebration of the 60th Anniversary of Allen Ginsberg's "Howl" with Music, Words, and Funny People. The event takes place at The Theatre at Ace Hotel Downtown Los Angeles on Tuesday, April 7. Among the other participants are Van Dyke Parks, Nick Cave, Amy Poehler, and Tim Robbins.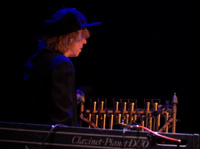 2/8/15 Terry Adams, Music in Motion
Terry collaborated with filmmaker Bassam Kurdali at the Academy of Music in Northampton, MA on Sunday, February 8.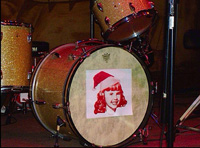 1/1/15 Holiday Hoedown Wrap-Up
If you missed it, December was non-stop fun! NRBQ & the Whole Wheat Horns played one great show after another: Jimmy Gordon sat in for the entire performance at the Stafford Palace Theater on the 26th, playing harmonica and pedal steel guitar. Trumpeter Dave Gordon came by the Turning Point the next night and joined the Whole Wheat Horns for the second of two sold-out shows. On the 28th, Terry and Scott visited Woodstock's WDST radio before NRBQ's stellar Sunday night performance at the Bearsville Theater. After one day off, NRBQ threw a pre-New Year's Eve celebration for a packed house at The Narrows in Fall River, and December wrapped up on New Year's Eve at the Bull Run in Shirley, with the Magic Box, Danny Boy, bells, and music, music, music. Every audience member was happy and warm as they headed out around 1 am (temperature: 14 degrees!). THE best way to begin a new year is with NRBQ.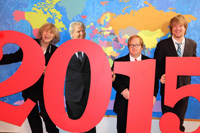 12/23/14 Countdown to 2015 with NRBQ!
Happy New Year everybody - see above for our December report.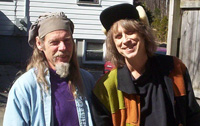 9/28/14 Steve Ferguson Honored at Louisville Music Awards
Steve Ferguson is the 2014 Legacy Award Honoree at the Louisville Music Awards, September 28th.
Pictured: Steve & Terry during the Louisville Sluggers recording. (Photo by Jeff Benko)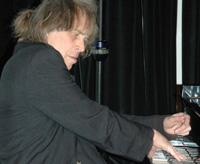 8/26/14 Hal Willner Residency at The Stone in NYC
Hal Willner presented a week of music at The Stone in NYC from August 26th through August 31st. Terry appeared Friday & Saturday, August 29th & 30th, performing his own compositions, plus music by Thelonious Monk, Sun Ra, Roland Kirk, and Karen Mantler.
Pictured: Terry at The Stone in 2008, when Love Letter to Andromeda was recorded.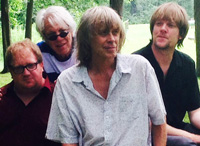 8/1/14 July Was Nothing But Fun Too!
NRBQ's Brass Tacks tour continued in July, with dates that began with a rocking night at The Met in Pawtucket, RI and ended at the Rocker's Roll (the 5th Annual Motorcycle Rally) in Pittston, PA. There were unforgettable shows in Cambridge, MA (the band's first appearance in the Boston area in many years), at B.B. King's Blues Club in New York City, on Misquamicut Beach in Westerly, RI, at the FTC Stage One in Fairfield, CT, and at the State Theatre in Falls Church, VA. The Whole Wheat Horns were along for the entire tour, and it was great to see old friends and fans along the way, like Johnny D, Jake Jacobs, Jimmy Gordon (who joined the band onstage in Cambridge and NYC), Peter Wolf, Yo La Tengo, Salon.com's Joan Walsh, and Weasel!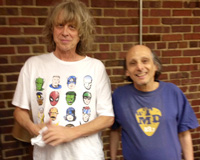 7/25/14 Weasel in Falls Church!
Terry and Weasel spent some time catching up when the legendary DJ from WHFS days came to see NRBQ at the State Theatre, and introduced them to the crowd as he has done so often before. Stay tuned for details on an upcoming WHFS documentary, but meanwhile you can hear Weasel on WTMD.
(Photo by Jay Schlossberg)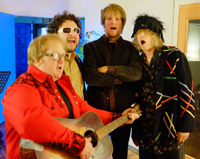 6/30/14 June Was Fun!
NRBQ began celebrating the release of Brass Tacks with June tour dates that started on the 12th in New London, CT and ended on the 21st at Fitzgerald's in Berwyn, IL. This run is the new candidate for BEST tour ever. Here's what some fans had to say: "Great show in New London at the Hygienic last night, great place to get to know the band all over again" … What a great show tonight! Always fun and never a disappointment for the past 30+ years!! THANK YOU! … Great show at the Summer Brew Fest guys! Can't stop playing Brass Tacks … Cleveland rocked last night at the Beachland, Top Notch Performance … NRBQ played in Newport KY on June 20. If you were wondering if they could perform like before I say Yes! Incredible night of the old and new perfectly blended by Chef Terry Adams … I sang, I smiled and danced my ass off! … Great show gentlemen. I was among the many, at The Southgate House Revival enjoying your music. The best "feel-good" music known to man. Come back to Cincinnati when you can! Your show has to make my top ten list of events for '14! … The show you played at Fitzgerald's was freaking awesome … NRBQ at Fitzgerald's! Like no other band in the world."
(Photo by Norm DeMoura)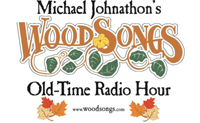 6/23/14 Woodsongs Old-Time Radio Hour
NRBQ taped a session of the Woodsongs Old-Time Radio Hour at the Lyric Theatre in Lexington, KY on Monday, June 23. Stay tuned for details on airdates.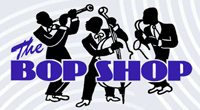 6/17/14 Release Day in Rochester, NY
NRBQ visited The Bop Shop in Rochester, NY on June 17, Brass Tacks release day, and surprised the people that stopped by with an amazing short set of music!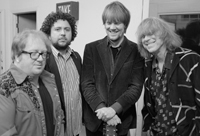 6/17/14 Brass Tacks!
The great new NRBQ album Brass Tacks was released in stores on June 17, and is also available at nrbq.com!
(Photo by Norm Demoura)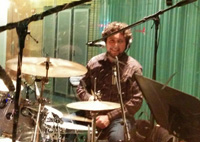 2/2/14 NRBQ Throws a Party in The Loft on SiriusXM
On January 27th, NRBQ made their second Loft Sessions appearance on SiriusXM Satellite Radio. This time a lucky 50 fans were on hand for the taping! Beginning on Monday, February 24th, the show will be broadcast on SiriusXM, Channel 30. There are four chances to hear it—visit NRBQ Headquarters on Facebook for complete details.
Pictured: Conrad in the drum booth.
(Photo by John Krucke)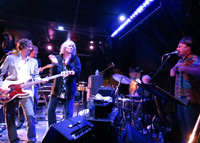 2/2/14 BEST Tour Ever!
NRBQ must've soaked up a TON of energy in Key West, because the tour that began in Philadelphia on January 24th, and ended in Norfolk, CT on February 1st was truly EPIC. The Quartet was joined by the Whole Wheat Horns for the entire tour, and welcomed special guests along the way: Pete Donnelly in Philadelphia and Annapolis, Conrad Choucroun in Washington DC and Annapolis, Marshall Allen and Knoel Scott from the Sun Ra Arkestra in Philadelphia, and Chandler Travis in Londonderry, NH. There were lots of old friends in NYC and packed houses in Connecticut. Everybody's verdict? "Best Tour Ever."
Pictured: onstage in Philadelphia opening night, Pete, Scott, Terry, Bobby Lloyd, Klem.
(Photo by Bud Fulginiti)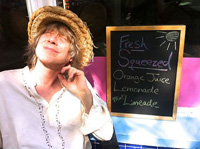 1/1/14 Hot Fun in the Wintertime!
NRBQ started the new year right with a 5-night stand at the world famous Hog's Breath Saloon in Key West, Florida in early January. The band's intention was to "soak up enough solar energy to power their winter tour"— and they sure did (see above)!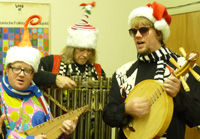 12/1/13 Holiday Hoedown!
Fans in MA, RI, and the Hudson Valley were treated to some big dancing fun at NRBQ's special holiday shows in early December. The bells!
(Photo by Norm Demoura)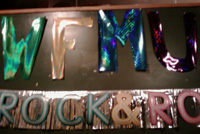 11/23/13 Live on WFMU
It was two hours of great live radio when Terry and P.J. O'Connell were guests on The Bob Brainen Show on WFMU on Saturday, November 23rd. If you missed it, you can listen to it here.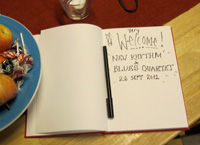 10/1/13 NRBQ in Scandinavia
In October, NRBQ returned to Scandinavia, with dates in Sweden and Norway. Pictured from the last tour is a welcome note from September 26, 2011, in Söråker, Sweden.
(Photo by Conrad)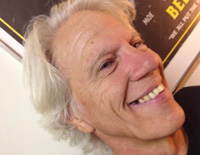 8/25/13 Here Comes Bobby
Beginning with NRBQ's September 2013 dates, Bobby Lloyd Hicks (Dave Alvin, Jonathan Richman, Steve Forbert, The Skeletons) will be on drums!
(Photo by Sue Blandford)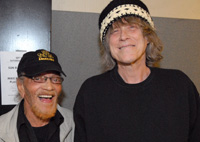 8/14/13 Happy Birthday, Terry!
Here's Terry in Philadelphia in May 2013, celebrating fellow Louisvillian Marshall Allen's birthday.
(Photo by Ken Weiss)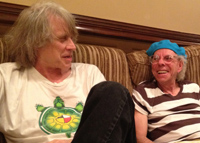 7/27/13 Jake!
NRBQ played a great set at B.B. King's in NYC's Times Square on July 16, and Jake Jacobs came backstage to say hello!
(Photo by Shirley Haun)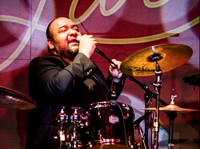 7/27/13 Joe!
Joe Camarillo not only sat in on drums all month - he sang lead vocals on "Hot Biscuits and Sweet Marie!"
(Photo by Frank Ruggles)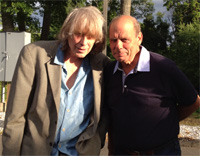 6/9/13 Terry and the Shaboo All-Stars
Terry played with David Foster and the Shaboo All-Stars at Summer Wind Performing Arts Center in Windsor, CT on Saturday, June 8. Terry played keyboards all evening and was the featured singer on "That's Neat, That's Nice" and "Please Don't Talk About Me When I'm Gone." Pictured are Terry and David Foster.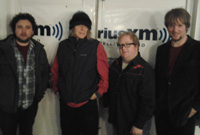 12/3/12 "The Loft Sessions" on SiriusXM
Don't miss NRBQ's debut on "The Loft Sessions" on SiriusXM Satellite Radio this week! The hour-long show, recorded live on November 15, airs Monday December 3 at noon, and is re-broadcast Wednesday December 5 at 2 pm; Saturday December 8 at noon; and Sunday December 9 at midnight (all Eastern Standard Time). The Loft is at SiriusXM, channel 30.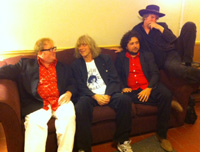 11/2/12 NRBQ November Tour
Here comes Terry, here comes Scott, here comes Conrad, here comes Casey! November dates include a return to The State Theatre in Falls Church, VA on the 18th, Rams Head Tavern in Annapolis, MD on the 19th, and, on Thanksgiving Weekend, Toad's Place in New Haven, CT on the 24th.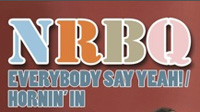 9/4/12 Everybody Say Yeah!
Euclid Records will be releasing a new NRBQ 45 - Everybody Say Yeah! b/w Hornin' In - later this month. Everybody Say Yeah! features Tom Ardolino on drums. Hornin' In was recorded live at the Terry Plays Monk and... concert this past April in Burlington VT.
9/4/12 We Travel The Spaceways To Japan
We Travel The Spaceways was released last month on Tinker Records in Japan, as an enhanced CD. The disc includes five songs filmed live in 2009 at Shibuya O-Nest in Tokyo.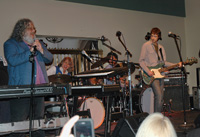 7/22/12 WAMC Broadcast August 1
NRBQ performed at The Linda in Albany, NY on April 3, 2011 (the day after We Travel The Spaceways was recorded). Joining in was Tom Ardolino on drums, vocals, and keyboards! WAMC (90.3 fm in the Albany area, online at wamc.org) will broadcast this special performance at 8 pm (eastern daylight time) on Wednesday, August 1. Be sure to mark your calendar. (Photo: Lili Chilson)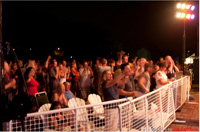 7/15/12 Big Dancin' Fun In July
It started with "The Stripper" in Enfield, CT and wrapped up with "Happy Birthday Jack Reich" in Pawtucket, RI. In between there were exuberant Long Island fans in Patchogue, dancing on the beach and birthday cake for Scott in Rowayton, CT, another stellar show in NYC, "Sitting in the Park" in Brooklyn, a standing-room-only crowd in Piermont, NY, and an audience of thousands in Hamden, CT. That will have to hold the fans for awhile because the band is on a summer break, and won't be back until late September! (Photo: Joe Lemieux)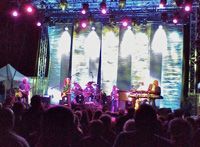 6/25/12 Terry Joins Bonnie Onstage
Terry joined Bonnie Raitt and her band onstage for the last two songs of her show in Holyoke, MA on June 8, playing on "Green Lights" and "Never Make Your Move Too Soon," and joined in again on "Green Lights" when Bonnie played at Boston's Bank of America Pavilion on June 24.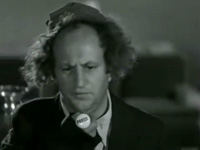 5/26/12 Recent Press We Like
Terry was interviewed by the Minneapolis Star-Tribune before NRBQ's show on May 12. And there's a 'Bring the Family' piece about the April Shea Theater concert in today's Boston Globe.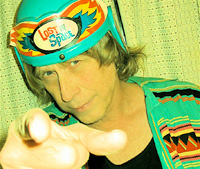 5/22/12 Spaceways Poster
You can download your own 'We Travel the Spaceways' poster at nrbq.com!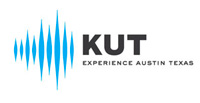 5/18/12 NRBQ On Austin's KUT Radio
Listen to NRBQ's live performance and interview on KUT Radio's "Eklektikos" here.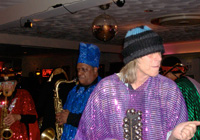 5/3/12 Terry Travels The Spaceways
On April 29, the Sun Ra Arkestra under the direction of Marshall Allen celebrated Duke Ellington's birthday at The Knickerbocker in Westerly, RI. Terry was honored to join the Arkestra for the wonderful performance, playing in the percussion section! "Making sound with them is definitely a high point in my musical experience," said Terry, "don't ever miss them when you get the chance."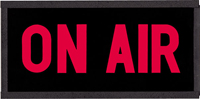 4/15/12 On The Radio
Check out these two radio interviews: Terry talked about Thelonious Monk and more on Vermont Public Radio on March 26 and Terry, Scott, and Conrad stopped by WRSI on April 10.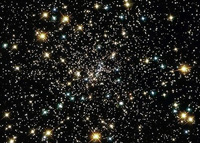 4/7/12 We Travel The Spaceways!
The brand new NRBQ CD is We Travel The Spaceways. It won't be available in stores until May, but you can buy it now at NRBQ shows and at nrbq.com.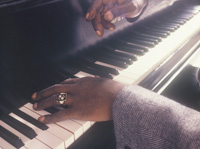 3/5/12 April Is The Coolest Month
The April tour dates begin on April 5th at the Flynn Space in Burlington, VT with a very special night of music called "Terry Plays Monk And..." The first half of the evening's performance will find Terry (with various musicians in multiple configurations) playing music written, inspired, and informed by Thelonious Monk. NRBQ takes the stage in the second half for more Monk music. Don't miss this one!
2/1/12 Terry Joins Pete At Residency
Pete Donnelly's weekly residency is in full swing at Milkboy in Philadelphia, celebrating his great new CD "When You Come Home." Terry will be a featured artist on Wednesday, February 1. Find out more here!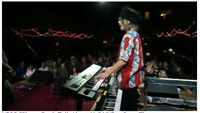 1/30/12 New NRBQ Videos On Facebook
Check out the great videos at NRBQ Headquarters. You can also find them by searching for "NRBQ in Full HD" on YouTube. Thanks RVA Buzz!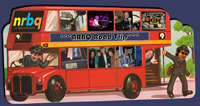 1/4/12 NRBQ's January Road Trip
Terry, Scott, Pete, and Conrad hit the road in January, along with Klem Klimek, the trusty road crew of John John and John Krucke, and special guests: Jake Jacobs in New York City, Jim Stephanson in Annapolis, and PJ O'Connell in Fairfield. Trombonist Art Baron will also be on hand at the Iridium in NYC. Details about the dates can be found on the Appearances page. (Bus by Todd Remley)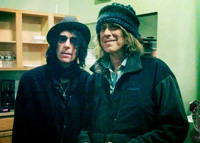 10/23/11 Guest Appearance with Peter Wolf
Terry made a surprise appearance on stage at Peter Wolf's Tupelo Music Hall show in White River Junction, VT, playing piano on "Pack Fair and Square." Pictured backstage are Peter and Terry.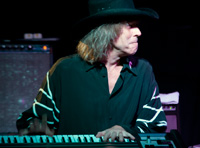 10/13/11 NRBQ in Texas
NRBQ will make a long-awaited appearance in Texas a few weeks after returning from their Scandinavian tour, with shows in Houston on the 13th, Denton on the 14th, and Conrad's hometown of Austin on the 15th. (Photo by Chuck Madden)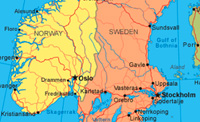 9/18/11 NRBQ in Scandinavia
Terry returns to Scandinavia in September, his first time back since 2006. Terry, Scott, Pete, and Conrad will keep this love goin' in Sweden and Norway: see nrbq.com or the appearances page on terryadams.net for more info.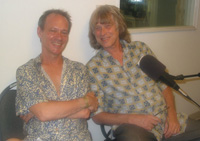 8/23/11 Live on Memphis Radio WEVL
The night before NRBQ's Memphis show at the Hi-Tone Cafe, Terry and Scott were special guests on "Bebe's Berserkathon" on WEVL radio. Pictured are Bebe and Terry.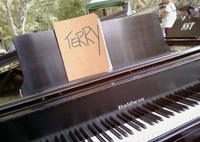 8/6/11 Shelebration! at Summerstage, NYC
Not only did Terry sing a tune at the Hal Willner-produced "Shelebration! A Tribute to the Works of Shel Silverstein" at Summerstage in Central Park on August 6, he also played piano with several other performers, including John Ventimiglia (of The Sopranos), Don Fleming, Dan Zanes, Richard Belzer, Pat Dailey, and old friend Roswell Rudd. Thanks to a last minute change in schedule, Terry and Roswell even treated the audience to a spontaneous rendition of Monk's "Bolivar Blues" during a shortened intermission.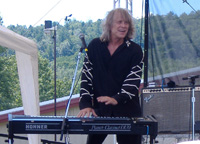 7/16/11 Green River Festival
NRBQ returned to the Green River Festival in Greenfield, MA on July 16th, 25 years after headlining the very first Festival in 1986. It was a perfect day, with a set on the Main Stage in the afternoon . . .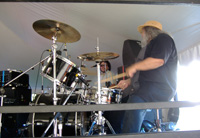 7/16/11 Green River Festival Continued
. . . and another set in the Dance Tent later that night. Tom Ardolino joined the band onstage for both!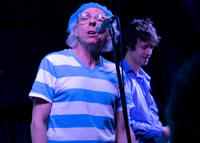 7/3/11 NRBQ in NYC
Examiner.com's review of NRBQ's show at the Iridium in NYC on June 26 called the performance "nothing short of triumphant." One highlight was when old friend Jake Jacobs joined NRBQ and the Whole Wheat Horns onstage for a great version of "Umbrella." Pictured are Jake and Pete. (Photo by Jeff Tamarkin)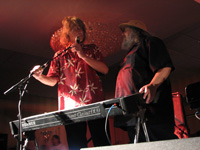 6/24/11 Clang! Thang 2011
A wonderful time was had by all at the second Clang! Thang, June 24 & 25 in East Windsor, CT. Joining in the festivities were NRBQ & the Whole Wheat Horns, of course, plus Tom Ardolino, P.J. O'Connell, Jim Stephanson, Chris Ligon, Heather McAdams, Chandler Travis, and David Greenberger. (Photo by Sharon Rutledge)

6/6/11 NRBQ on WFUV
On June 6 NRBQ joined Claudia Marshall in WFUV's Studio A for music and an interview. Check it out at WFUV's archives: WFUV.org.

5/19/11 A Great Night in Harlem
Terry was one of the performers at the 10th Annual "A Great Night in Harlem" concert at the Apollo Theater in New York City on Thursday, May 19. Presented by the Jazz Foundation of America, the concert was a benefit for the Jazz Musicians Emergency Fund and also featured performances by Macy Gray, Dr. John, Ronnie Spector, and Lou Reed.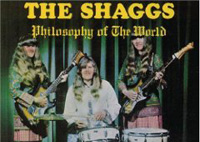 5/10/11 BBC Radio Shaggs Documentary
Terry was interviewed by documentary filmmaker and author Jon Ronson for a BBC Radio 4 story on The Shaggs which aired on May 10.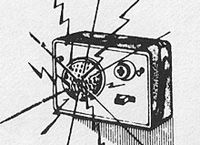 April 2011 Radio Radio
The band was live from the Kimmel Center Plaza in Philadelphia on WXPN's Free At Noon series on Friday, April 8. You can listen to the performance here. You can also hear their Saturday, April 9 performance on the Bob Brainen show on WFMU.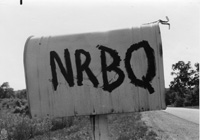 3/21/11 Terry Ushers In A New Era Of NRBQ
Terry announces a new day and a new album, Keep This Love Goin'.
Read more about the new album here.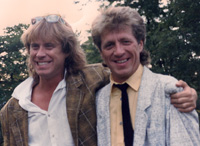 1/30/11 "NRBQ Hell Night!"
To mark the occasion of NRBQ's beginnings in the Adams family's Louisville residence in January of 1966, Terry and Donn threw a birthday party at The Vernon Club in Louisville on January 29. Music was provided by The Terry Adams Rock & Roll Quartet, with the Whole Wheat Horns, and TKO. Read Terry's early NRBQ memories here.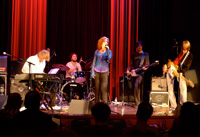 11/7/10 TARRQ in SF
The incomparable Bonnie Raitt joined the Quartet onstage at Yoshi's in San Francisco on November 7, for "End of the World" and "Green Lights."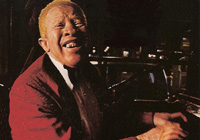 7/30/10 Piano Red Tribute on August 12
In anticipation of the August 17 release of Piano Red's "The Lost Atlanta Tapes," there will be a special concert celebrating Piano Red's music and life on Thursday, August 12 at Smith's Olde Bar in Atlanta. The event will feature The Red Rockers, a band that includes musicians who played with Piano Red as well as lifelong devotees Terry Adams on piano, bassist Tommy Dean of The League of Decency, and drummer Charles Wolff, formerly of The Brains. Scott Ligon will be on guitar. Other special guests will include original members of Piano Red's early band, The Interns. Read more in the Atlanta Journal-Constitution here.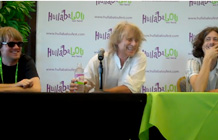 7/26/10 Terry Adams Rock & Roll Quartet Makes First Louisville Appearance
Terry returned to his hometown when The Terry Adams Rock & Roll Quartet performed at the HullabaLOU Music Festival in Louisville, KY on Sunday, July 25. The 3-day festival took place at the legendary Churchill Downs, where the annual Kentucky Derby is held. Read Terry's interview with LEO Weekly here.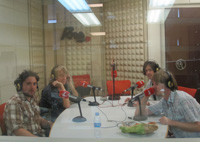 6/30/10 Cuarteto en España
The Terry Adams Rock & Roll Quartet were busy in Spain before their Azkena Rock Festival appearance on June 26. While in Madrid, they were guests on an hour-long Spanish National Radio show (click here to listen) and also recorded a new track at Madrid studio The Factory for their upcoming album.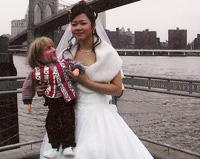 5/29/10 Terry Jr. Weds in NYC
After a two year engagement, Terry Jr. married Bong-Cha in a ceremony attended by family and friends. Pictured are the happy couple. (Photo: Heidi Kennedy)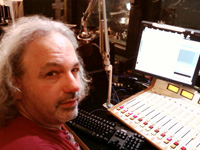 4/20/10 Terry, along with P.J. O'Connell, on WFMU with Bob Brainen
You can hear two amazing radio shows by visiting the wfmu.org archives: from April 10 here and from April 17 here. Terry tapped into his meticulously created and one-of-a-kind tape vault and his personal music collection for all kinds of gems. Selections ranged from a never-before-heard NRBQ performance from 1968 of "My Babe" to an unreleased live recording of the Terry Adams Rock & Roll Quartet doing "Please Don't Talk About Me When I'm Gone" last year. Lots of great conversation too, about Steve Ferguson, Captain Lou Albano, T-Bone Wolk and more. (Pictured: Bob Brainen)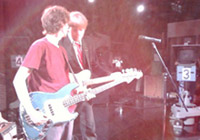 1/1/10 Three Stooges Marathon
The Terry Adams Rock & Roll Quartet were special guests on Boston TV38's annual New Year's Eve Three Stooges Marathon, performing Terry's "A Girl Who Loves The Stooges" and his arrangement of "Music Goes 'Round And Around" (first heard on NRBQ's Tiddlywinks). Terry was also interviewed about his lifelong love of The Stooges. Check out the footage here.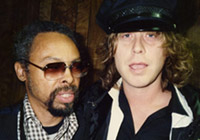 12/10/09 Thelonious Monk Tribute on CD
That's The Way I Feel Now, the Thelonious Monk tribute produced by Hal Willner in 1984, is finally going to be reissued on CD, and will include NRBQ's version of "Little Rootie Tootie" and Terry's recording of "In Walked Bud" with his hand-picked band: Roswell Rudd on trombone, Pat Patrick on alto saxophone, John Ore on bass, and Frankie Dunlop on drums. Stay tuned for release date details. (Pictured are Terry and Pat Patrick.)